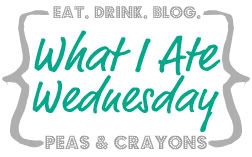 What day is it? Oh yeah…it's WEDNESDAY!! That means it's time for WIAW!
Breakfast:
Totally random breakfast for me…Coffee, Chobani Pomegranate Greek Yogurt and Cheerios. First of all, I am absolutely in love with the Pomegranate Chobani yogurt. I love that there are real (crunchy!) pomegranate seeds in the yogurt. Side note: I never knew you were supposed to eat the actual seeds of the pomegranate. Every time I have eaten a pomegranate in my life, I have eaten the red stuff around the seed and then spit the seed out. I had NO idea people actually eat the seeds!! So glad I know this now. I hardly ever eat cereal for breakfast, but I found a personal sized box of Cheerios in the pantry and had to eat it because it was in an adorable little box.
Lunch:
Because I have a million tubs of tomatoes to eat up, I decided to make a tomato basil salad for lunch. Of course there was some mozzarella cheese and balsamic vinegar drizzled on top! I also had a huge slice of rosemary olive oil sourdough bread…my favorite! I could eat bread all day.
Snack:
What is this? Oh this is just a Snicker-Chip-Doodle cookie…and can I just say…YUM!!!! These are SO good. Half of the batch is already gone and I just made them a few days ago. I highly suggest making them!
I also had a cashew cookie Larabar, my favorite. I always store my Larabars in the freezer, they're awesome frozen!
Dinner:

Dinner was quick and simple…angel hair pasta with shrimp in a tomato basil sauce! I cooked a batch of shrimp up yesterday and saved half for tonight's dinner, so cooking the meal took so much less time than usual. The hardest part was waiting for the pasta to cook, I was getting antsy!
Question:
What was the most delicious thing you ate today?