Good morning!!
It's Wednesday…which means it's time for WIAW! Every Wednesday I post my meals for the day. Just as a reminder, this is not all that I ate through the day, just the main dishes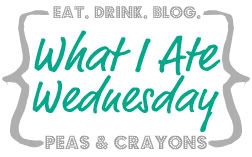 Breakfast:
Today I had a few extra minutes before I had to run to school, so I decided to make something special. I fried up an egg and made an egg sandwich, with cheddar cheese of course, and sliced up some strawberries to eat on the side.
Lunch:
Before work I went out to lunch with a friend to Baja Fresh. I got the Mango Chipotle Chicken Salad, which was amazing. It was loaded with romaine lettuce, grilled chicken, mango salsa and a delicious vinaigrette. This is definitely going to be my go-to meal when I go there! It was so good I forgot to take a picture. Oops!
Snack:
Before dinner I grabbed a peanut butter Clif Bar..my last one!! Time to go shopping! Of course, I didn't have time to take a picture.
Dinner: 
For dinner I made a batch of Sweet & Sour Chicken, which was fabulous. I couldn't make it until late in the night, so dinner was laaaaaaate but oh sooo good. I highly suggest this recipe!!
I was way too stuffed from dinner to eat any dessert, but I'm sure I'll have some chocolate later
Question: 
What was the most delicious thing you ate today?