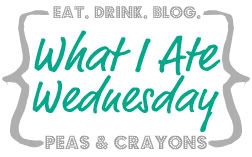 Good morning!! Happy WIAW! Don't forget, I never post ALL of the food I eat, so these are just my main meals.
Breakfast:
Fall oatmeal! In the mix today: oats, brown sugar, pumpkin, toffee bits, strawberries, walnuts & peanut butter. So good! After I woke up with a cold yesterday morning, all I wanted was a big bowl of hot oats. Of course, there was also a big cup of black coffee on the side!!
Lunch: 
I grabbed the same Mango Chipotle Chicken Salad as last week's lunch from Baja Fresh. I've been craving it all week!! I'm obsessed. The chicken is perfectly grilled and I LOVE the dressing!!
Dinner:

When I picked up my Baja Fresh meal I stopped over at the grocery store for some yummy bread. Today I went for garlic, the perfect match for my minestrone soup!! I definitely went back for a couple more slices of bread after this bowl of soup was done
Snack:
The caramel mocha and Chocolate Chip Clif bar I ate before lunch went undocumented. I am loving the caramel mochas lately!!
Question:
What's the most delicious thing you ate today?