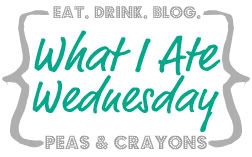 Happy Wednesday!! This week is going by so fast, I still have so many things I want to do before I go back to school and work. Today I'll be running a bunch of errands so hopefully I'll get something done today!
Breakfast: 
Coffee with Bailey's Creme Brulee coffee creamer (yum), peach Chobani and a slice of homemade pumpkin bread (from my holiday baking extravaganza). The bread turned out really well. I ended up making pumpkin bread and banana bread. I've been snacking away at them, but I totally went overboard and made way too many so I'm going to have to freeze the rest. Not complaining, though. I'll have a lifetime supply of bread in the freezer
Lunch:
I went out and ran a couple errands around 11 and didn't get back until 2. I was starving and wasn't really in the mood to cook, so I made a quick grilled cheese sandwich and heated up some Top Ramen soup. Sometimes you just have to go with the simple stuff! This lunch made me so happy, I have a serious love for grilled cheese.
Dinner: 
After lunch I headed over to a pilates class. I haven't taken a pilates class in months and I forgot how challenging it is! My legs were shaking at the end of the class. It was awesome. By dinner time I realized I hadn't had any veggies yet, so I decided to chop up some broccoli, throw in some spinach and toss it with shrimp over rice. I also added some of Trader Joe's General Tso sauce to the mixture, but this meal wasn't very exciting. There's some leftovers from the other half of the batch and I'm trying to think of something a little more delicious for lunch or dinner another day.
Dessert:
Dinner was a bust, but I didn't let that stop me from dessert! After dinner I grabbed a piece of fudge and a butterball. That fudge is the easiest in the world to make a definitely the most delicious. It's the recipe my family has always used and I'm in love!
As for non-WIAW stuff…I wanted to let you guys know that there's a new KIND mission up. This month's mission is to do a small favor for someone who'se helped you in life, it can be anyone. So what happens next? According to their website: "If enough people accept this KINDING Mission, we will partner with Soles 4 Souls to deliver shoes to thousands of adults and children who are currently living without this basic need." All you have to do is go to THIS WEBSITE  and accept the mission. I've already accepted this mission and I'm super excited to do something nice for someone who'se made a difference in my life!
That's it! I hope you all have a great day!!
Question:
What's the most delicious thing you've eaten today?